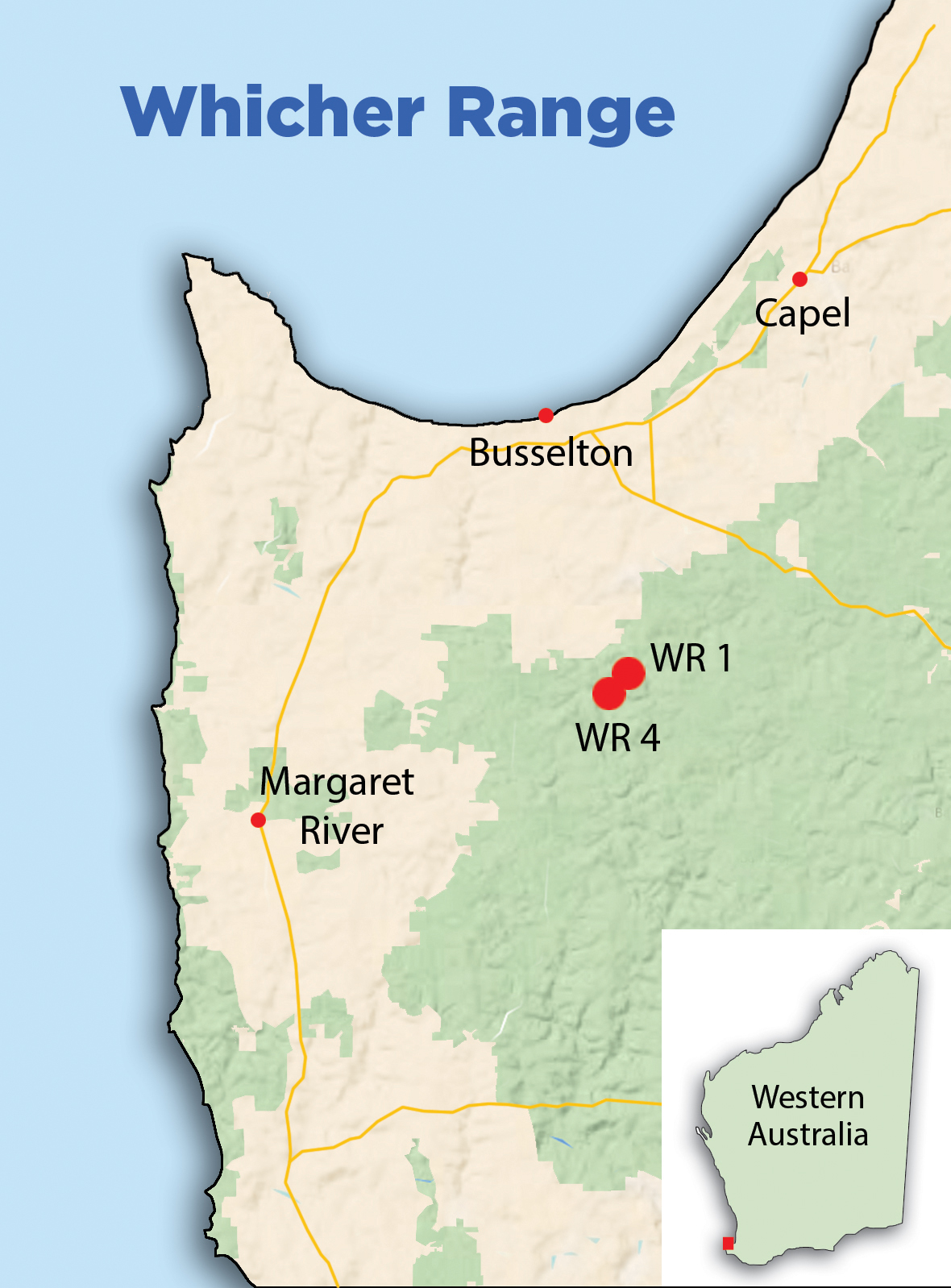 EP408–WHICHER RANGE
CalEnergy Resources (Australia) Limited (CRA), is the sole operator of the Whicher Range gas field permits. CalEnergy is a subsidiary of the U.S. based Berkshire Hathaway Energy.
LOCATION:
ONSHORE SOUTHERN PERTH BASIN, WESTERN AUSTRALIA
Project Update
JULY 2019
CalEnergy has completed the activities to decommission the Whicher Range-1 and Whicher Range-4 wells using a small well servicing rig. The completed activities included the successful plugging of sections of the two wells with concrete as planned and without incident.
The next phase of the work will involve:
Monitoring the two wells for twelve or more weeks before the wellheads are removed.

Drilling two 10-metre ground water monitoring bores.

Establishing forest vegetation at the site.
A Rehabilitation Environment Plan will be submitted to the Department of Mines, Industry Regulation and Safety (DMIRS) for approval.
For more information contact CalEnergy using the enquiry form below or call +61 8 6500 8500.
Frequently asked questions
What is the future for the Whicher Range gas field?
The two wells will be decommissioned and monitored for 12 or more weeks. Once the well heads are removed the two well sites will be rehabilitated and returned to forest vegetation.
Does this mean the end of CalEnergy's involvement with South West WA?
CalEnergy have no current plans for further natural gas exploration in the Exploration Permit EP-408. We are focused on decommissioning the two existing explorations wells and rehabilitating the two well sites.
Is there any prospect of commercial gas production in the region?
CalEnergy has not identified sufficient potential at Whicher Range to meet our technical and commercial threshold for development, and we have no plans for further exploration.
Can you rule out fracking in the long term?
CalEnergy have never considered that fracking would be a suitable production option for development of the Whicher Range gas resource. Fracking in the South West of Western Australia is now banned by the State Government.
Would CalEnergy consider handing back the leases?
We intend to retain the leases while we decommission the wells and fulfil our obligations to decommission the two wells and rehabilitate the exploration sites.
Will the public be consulted about rehabilitation and environmental management?
Yes. We will continue to keep the community informed about our plans and activities.
Can you guarantee the future quality of the water?
Surface and ground water management remain an important part of our activities. Our decommissioning environmental plan includes the installation of two 10 metre groundwater monitoring bores.